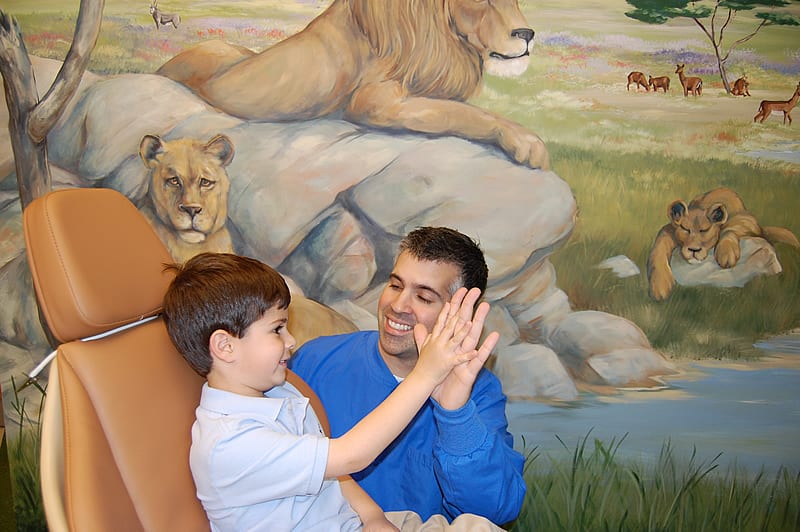 The American Academy of Pediatric Dentistry recommends that a child's first visit to the dentist occur by age one. This visit will enable us to evaluate your child and introduce you to proper oral hygiene and dietary habits. We will always strive to educate you on issues which may affect your child's oral health at a time appropriate for their age.
Before The First Visit
Please discuss the positive aspects of dentistry with your child. Parents play a large part in preparing their children for their first visit to the dentist. Try to act relaxed and at ease. Children will sense your anxiety and it could have a negative impact on their experience. Another way to convey good feelings to your child about dental visits is to remind them that going to the dentist is a sign that they are growing up. You can explain that the dentist will count his or her teeth and may take pictures of them as well.
Please do not tell your child that the "dentist will not hurt" as this may never have entered his or her mind. Instead, you can assure your child that Dr. Mike will be gentle and friendly and that they should have fun. Also, please avoid using the words "needle, shot, pull", or any other words which suggest unpleasantness. We will explain each of our procedures to children in terms they can understand before we perform them.
If your child is afraid, be reassuring. Young children often cry when faced with unfamiliar situations. Let them know that it is okay to be nervous, but assure them that if everyone works together, they can have a very positive experience. Expect your child to do well and enjoy their visit to our office and chances are they will do just that!
The First Visit
Our staff will review your child's health history form with you at the first visit. Your child will then be introduced to our dental team and invited to tour the office. You are welcome to accompany your child into the treatment area during the initial exam. This will give you the opportunity to see our staff in action and allow the dentist to discuss any dental findings and treatment directly with you. The dentist will perform an examination and then evaluate the health of the teeth, gums and your child's bite. Additionally, your child will receive a dental cleaning and fluoride. Dental radiographs (x-rays) are taken only as the dentist feels they are necessary. Additional services will be scheduled for a future visit.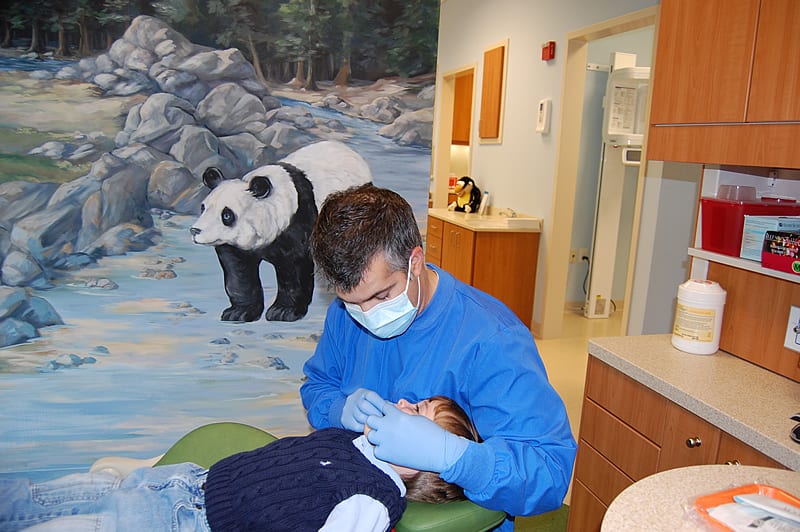 Diet and Oral Hygiene
We will spend time educating your child on proper tooth brushing techniques when necessary during routine examinations. We cannot stress enough the importance of follow-up by parents.
It is essential to brush your child's teeth at least two times a day, especially in the evening before bed. An adult should brush your child's teeth until they develop the dexterity to adequately remove the plaque from their teeth (usually about age eight.) Your child should not have anything else to eat or drink after brushing. You should begin using fluoride toothpaste at about two years of age, but use only a tiny smear, no larger than a grain of rice, until your child can reliably spit out the toothpaste (usually about age six.)
A proper diet for your child is essential in maintaining dental health and avoiding cavities. It is essential to limit both the quantity and the frequency with which children consume sweets including but not limited to candy, soda and juice. If you are uncertain regarding the sugar content of a food, check the label.
Crying
While your child may never think to cry, please try not to be upset if your child does cry. This is a normal reaction to the unknown, and we are trained to help fearful children through their dental experience. In fact, in infants, crying actually helps us see everything we need to see. As your child matures, it is part of our goal to encourage their independence and promote their self-esteem.
Remember when describing their visit, please do not use any words suggesting unpleasantness. We will treat your child as our own, and perform the dental service in the easiest and safest way possible.